I am a cultural worker. I speak a lot with people – this is a part of my work. I speak with my colleagues and friends who also work in the sphere of art. I speak with audiences, journalists, scholars, and students. I should speak, and mostly it is about art.
Often I am tired of speaking. I wish that this wasn't the case. To find silence and to be silent. To escape from people, even from my close friends. Sometimes I guess they feel the same.
Once when I met with my friends and again we were discussing an important current topic, I realized that I knew them for a long time, and I did a lot of projects with some of them. We felt comfortable with each other; we had some funny drunk memories. I knew a lot about their artistic activities, about their political and civil positions, and about what values we shared or not. But I do not know anything more than that about them. Where do they live and with whom? Is there anyone that they take care of? What about their mother, father, family, or about kids? Where do they earn money? What do they dream about, or what do they fear? Do they have any hobbies that are not connected with art? How are their working days and weekends organized? Are there any problems in their relationships with a partner or their family?
I've realized that we talk a lot about important issues, and we do great projects together. But we almost never speak with each other as though the other is a human being. Mostly we present ourselves as successful people, but what is behind the success?
I started to collect private stories of people who do or manage art. The main frame of these stories is that we talk at her or his home or in any other place that is the most private space for the them. I decided to present these stories anonymously as chapters, which are transformed into a collective narrative. During the conversations, I made photos which represent my feeling about the place where we met. But it doesn't matter who the photos belong to.

A Dog
As a part of my eco lifestyle, I take care of homeless animals. My friend calls me crazy, but I can't stop doing it. It is very uncomfortable because you should forget about personal boundaries. But I feel that I must do it.
I had a dog. He didn't have an eye, and he limped. I saw him on the roof of the house in a yard. I knew that it was dangerous for him to stay there because there was a guy who was hunting him. I could not sleep those nights until I took the dog home. My life was changed. He brought so many worries. I could not travel because the dog refused any care from other people. Every time he was waiting for me, I felt a strong responsibility. In the last years, I really could not go away anywhere even for a couple of days.
It was my birthday. He died. I guess he knew that I loved him, but I was so tired. It seemed that he died as a present for me.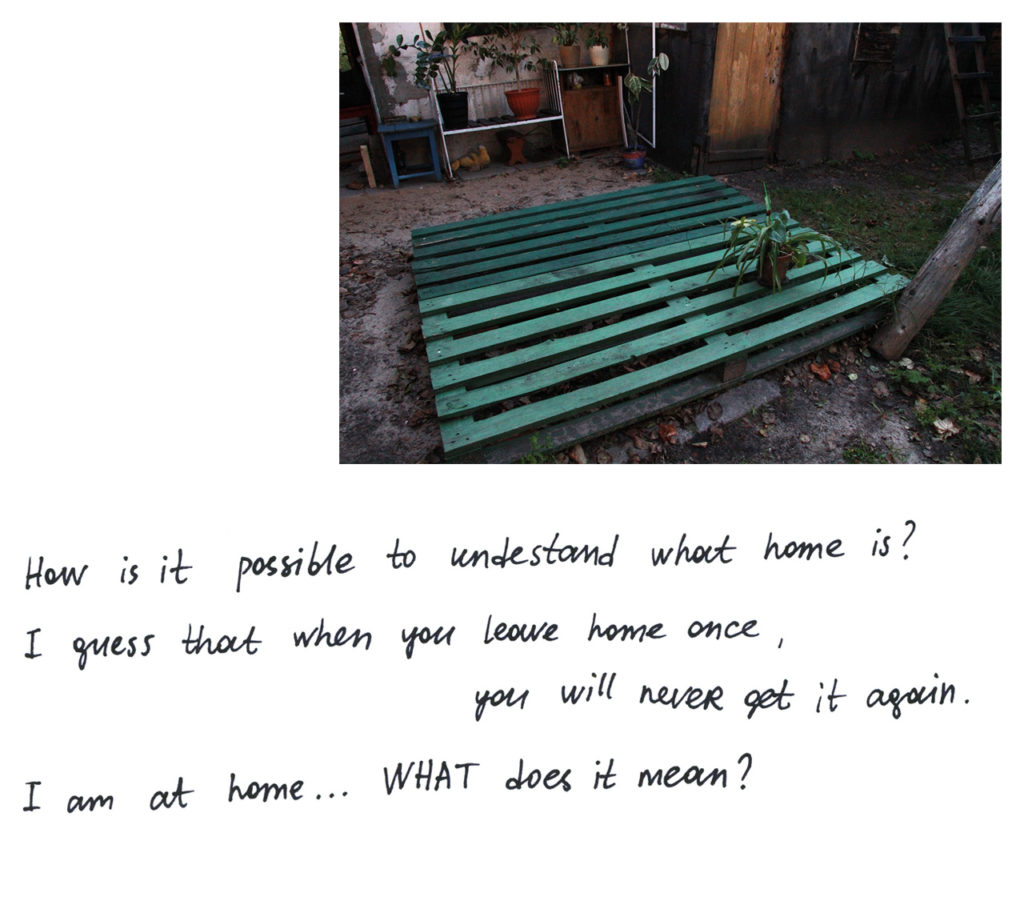 Parents' Plans
I cannot say we have a close relationships. And it has been this way since my childhood. As a man at his age, my father has a lot of stereotypes. He dreams that I will have a family, kids, a domestic life, and a good job. He thinks that a job not linked directly with money is rubbish. I guess he thinks that I made a mistake. And maybe he is right; maybe I lost something. But I live as I want. And I do not know how I can combine my desires with the typical expectations of my father.
But at the same time, he is proud that I am an artist because it was he who sent me to art school. At the same time, he worries that I am outside of the social structure … I don't have an employment record book, I do not have any stable future. And sometimes I think that, yes, probably it is wrong. I will not have a pension. And what if I am old and ill: how will I survive?
Honestly, I have an experience of, let's say, a typical family where a woman plays the wife's role. I was in a marriage for about 8 years, but I did not like it. Now I am trying to understand why I was in one. Why did I engage in these typical relationships? My husband liked that I was an artist. But from the very beginning, he wanted a typical family with kids, dreams about his own flat, sea vacations …
I guess I was going along with my parents' scenario. I tried to play this role, but I could not. I have a feeling that I missed something.
A Sweater
I have a friend. He lives abroad. We have known each other for a long time, but we meet rarely. Actually, we have never talked about private issues, and at the same time, I feel we trust each other. I love him. I know that he is gay, and I love him as a human being. I can't explain this kind of love, and it is love. Once I was traveling and stayed at his for a couple of days. In the evening we were drinking and talking. Suddenly, he said: I should present you with something. What can I present you? – Oh, no, because I do not have anything for you. – Don't worry. It is me who wants to give you a present… And he gave me his beloved sweater. I immediately put it on, and he laughed: Oh, now you look like a real lesbian.
It is my beloved sweater. When I dress in it, I feel that I am not alone.
Not Enough
I grew up with my mother and sister. And I thought that we ate chicken gizzards so often because it was very healthy food. Later I realized why: my mother could not cook beef. She never bought it because she couldn't afford it. And actually, until now, I am very simple with food and domestic life. Although I can buy everything I want… food, clothes, a new mobile phone, I can travel… But am I happy? I can't say because I should work a lot. I do not complain, but my daily calendar is full. I can't say I have enough time for myself.
My uncle works as a watchman. Earlier he had his own business. But now he works two times per week. He has little money, but he has a lifestyle that wealthy people would be eager to live for at least a week. He wakes up – birds are singing outside the window – he comes back from fishing, nowhere to hurry to. He enjoys every moment. And this is a question of a quality of life. I think that many people are unhappy because they identify themselves with their work – with its mechanics. But there is a possibility not to identify with it but just to earn money, but what then comes next – let me go to the sea! That is a good idea. But do we really like this idea? No, we continue to invest in our education, invest in stability, but isn't it stable enough?

I read in one yogi's book that even an ant can sustain its own existence independently. But it lives in a forest, and its brain is much smaller than ours. The example was meant to illustrate that a human being can do anything. But because of our hesitation … this fear that we have to earn money to provide our own and our families' livelihood, achieving this means we can exist in the world. It limits our potential. It seems to me that we can approach this from another side, and suddenly it will appear that money is the least of our problems. But this idea came to me recently.
I don't want to lie. It's difficult for me to answer these questions. And I can't see myself in these answers.